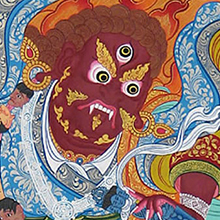 Sadhana of Mahamudra
Our community gathers for this precious opportunity to practice the Sadhana of Mahamudra on the evenings of the new moon. All levels of students are warmly invited to participate, which is what makes this so special. Sadhanas are usually reserved for Vajrayana practitioners. Chögyam Trungpa Rinpoche, offered this text to everyone because he saw great urgency in the need for the practice.
The Sadhana of Mahamudra lasts about an hour, and involves both chanting and silent meditation. Texts are provided at the center.


History
The Sadhana of Mahamudra is an important text composed by the Vidyadhara, Chögyam Trungpa Rinpoche, in 1968 at Taktsang in Bhutan, in a cave where the great Tibetan Saint Padmasambhava meditated–a site held in great reverence in Buddhism. The Sadhana is the result of Trungpa Rinpoche's exposure to both Western spiritual materialism and the wisdom of the traditional Buddhist approach to reality. The Sadhana of Mahamudra has been acknowledged as terma, which is Tibetan for "treasure" and refers to authoritative religious literature said to have been preserved in hidden places to be recovered at a point in time when needed by the world.
Price
There is no cost to attend. And, donations are always welcome.