The Way of Shambhala Programs
Shambhala offers an extensive structured path of training in authentic meditation practices and teachings for people who are interested in pursuing such a path. The name of this path is The Way of Shambhala. If you would like a simple introduction, you may choose to sample a workshop, a course or a weekend—or several, at any time.  For more information, see the overview page.
Way of Shambhala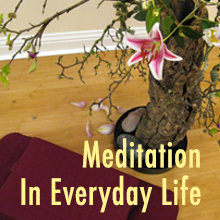 with Kathryn Rile & Susan Arnesen
January 12th—February 9th (2021)
Give yourself the gift of meditation and infuse your life and the lives of those around you with compassion, caring, and kindness. A great start for the new year!
Continue »