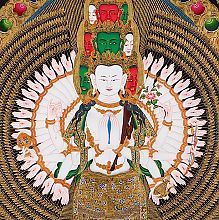 Glimpses of Abhidharma: A Book Study Class
with Bruce Dal Santo & Valentin Ghiur
The great problem is that spiritual teachings have been used as a way of securing ourselves, gaining a higher level of stability in terms of ego. This is our inevitable starting point. We cannot ignore this or push this away. We must start with the mistakes and that is always a problem. There is fear and need for security that makes acceptance of spontaneity extremely difficult…but if we step out of that concern for security and are willing to be raw and rugged, personal as we are, somehow a certain relaxation takes place. We discover that the more we let go, the more comes back to us, rather than that we lose our trip on anything. Then a real relationship to our situation begins to develop.
—Chogyam Trungpa Rinpoche from the introduction to Glimpses of Abhidharma
The Abhidharma is a collection of Buddhist scriptures that investigate the workings of the mind and the states of human consciousness. In this book, Chogyam Trungpa shows how an examination of the formation of the ego provides us with an opportunity to develop real intelligence. Trungpa also presents the practice of meditation as the means that enables us to see our psychological situation clearly and directly.
Join us for a quick and precise glimpse into the inner workings of how prajna (direct insight) and those forces that shape our mental and physical existence influence our personal experiences.
Vashubandu in 200 A.D. defined it this way, "Abhidharma is direct, naked insight (prajna) and it's investigations."
How do we get from 200 A.D. to here, a time roiling with riots, murder, and willful deceptions posing as truth. A time with anger and illness on fire in our streets. Are the questions, what is Abhidharma what and how is our spiritual practice, what is us at the root of our being, even relevant any longer?
But these questions are the true investigations of Abhidharma. What exactly do we mean by prajna besides some vague fuzzy concept? How can we discern true prajna, stainless certainty, from clever self deception?
How can we discern true practice from spiritual self aggrandizement? And ultimately who are we really who walk this path?
Abhidharma is the precise and intuitive investigations of these emotional and personal issues of our experience and that of society as a whole. It is the ultimate conclusion of Abhidharma that because we can't find a self as reference point that we are inseparably linked by our very DNA to others and the phenomenal world. We cannot prosper unless unless they and society prospers.
But we cannot accept Vashubandu or Chogyam Trungpa's passionate words blindly. They must be ingrained in our being thru diligent, rigorously precise and caring practice to attain the level of stainless certainty that they speak.
The Text
The text for this class,
Glimpses of Abhidharma
by Chogyam Trungpa, is available in bookstores and through online retailers—including used copies. Please purchase the book prior to the first day of class.
Bruce Dal Santo is a long-time dharma teacher and practitioner whose connection with Shambhala Buddhism stretches back to 1974 and a chance encounter with its founder Chogyam Trungpa in San Francisco.
Cost
Program Price: $90
*Patron Price $125
Limited Income Price, $60.
Nobody turned away for lack of funds.
*Paying the Patron Price helps support students who cannot afford full fee.
Contact
For questions contact Bruce: brucedalsanto [at] gmail [dot] com
Registration
Please register and pay online in advance of the class to ensure that you receive the Zoom link.
About Zoom
This program will be presented on the Zoom platform. It is available for computers, smart phones, and tablets. You will need to download the free app on your device before joining the session. Once it is loaded, click the link and follow the prompts to join the session.
It is best to join 5 minutes in advance so that you are set up when the session begins.
And, make certain that your mic is muted when you join to avoid background noises which are multiplied with many participants.
Learn more about Zoom here: https://zoom.us
You can find is a list of Zoom FAQs at this link