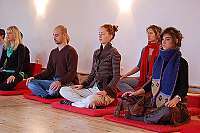 Young Meditator's Night
We are so pleased to welcome back our Young Meditator's Night!
Join our community for a bi-monthly gathering, on the 2nd and 4th Thursday of each month, where young adults (and adults young in spirit) can have a space to meditate, share ideas, experiences and connect with one another on a deeper level.
Participants have the opportunity to work with a Shambhala Meditation Instructor during this time for more personal or technique related questions.
Price
There is no cost to attend, and donations are always appreciated.
Contact
If you have any questions, contact Eric & Bin:
YoungMeditators [at] sfshambhala [dot] org