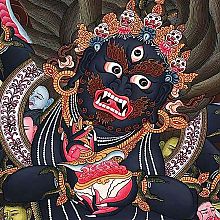 The Truth of Suffering and the Path of Liberation—A Book Study Class
with Bruce Dal Santo & Valentin Ghiur
We can't just practice passion, aggression and ignorance on ourselves alone; we do it to somebody else as well and somebody always gets hurt. So instead of just having our own anxiety, we produce a further state of anxiety in others. We generate their anxiety, and they also generate it themselves; and we end up with what is known as the " vicious circle of Samsara." Everybody is constantly making everybody feel bad.
We have been participating in this tremendous project , this constant mishap, this terribly big mistake, for a long time—and we are still doing it"...'and in fact we do it so well that it has been said that this cycle of suffering called Samsara is notorious for being endless!
—Chogyam Trungpa Rinpoceh from The Truth of Suffering and the Path of Liberation
It has been said that the cycle of worldly suffering called Samsara is notorious for being endless! In this book The Truth of Suffering and the Path of Liberation, Chogyam Trungpa Rinpoche offers us a profoundly clear and unrelenting view into how and why we suffer and a practice and Path that can break that endless cycle at it's root.
Deceptively simple, these teachings reveal a poignant and deep sophistication and subtlety that can inspire us at every moment of our lives. It is no mishap that these Teaching on the four Noble Truths, suffering, the origin of suffering, the cessation of suffering , and the path of liberation have survived, prospered and enlivened practitioners lives for over 2500 years!
Please join us to explore this joyful path to liberation.
Bruce Dal Santo is a long-time dharma teacher and practitioner whose connection with Shambhala Buddhism stretches back to 1974 and a chance encounter with its founder Chogyam Trungpa in San Francisco.
Cost
Program Price: $90
*Patron Price $125
Limited Income Price, $60.
Nobody turned away for lack of funds.
*Paying the Patron Price helps support students who cannot afford full fee.
Contact
For questions contact Bruce: brucedalsanto [at] gmail [dot] com
Registration
Please register and pay online in advance of the class to ensure your space and so that the coordinators know to expect you.