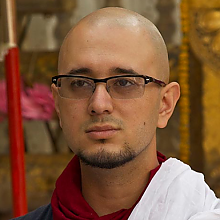 Cutting Through Spiritual Vagueness: Equanimity and Bodhicitta for Divided Communities with Dungse Jampal Norbu
Walking a spiritual path is a deep, personal choice. Developing an awareness of one's own internal world is where the path starts, and where we discover what is meaningful in our lives. If we rely on the trappings of spiritual materialism or default to old habitual patterns then the way forward will remain vague.
In this session, Dungse Jampal Norbu will address how to cut through spiritual vagueness and develop a clear vision on the path of Tibetan Buddhism by referring to teachings from the classic Buddhist text on lojong, mind training.
Dungse Jampal Norbu is the son and dharma heir of Dzigar Kongtrul Rinpoche. Rinpoche is the founder of Mangala Shri Bhuti and a lineage holder of the Dzogchen Longchen Nyingtik tradition. When Dungse Jampal was still an infant, Kyabje Dilgo Khyentse Rinpoche, Dzigar Kongtrul Rinpoche's root teacher, instructed Kongtrul Rinpoche to train Dungse la to uphold and continue Kongtrul Rinpoche's lineage. With life-long guidance from Kongtrul Rinpoche, particularly in traditional Buddhist shedra studies in India and the US, Dungse-la now teaches widely as well as engages in an annual 100-day long retreat at Longchen Jigme Samten Ling.
Dungse Jampal has lived and traveled extensively in Asia, but spent much of his youth in Colorado. If you were to ask Dungse la how long he has been studying the Buddhist path, he would say, "Since I was born." Under his father's wing he has received many teachings and transmissions, sometimes while the two were walking in the mountains of Crestone. Dungse la's anecdotal style and first-hand curiosity about how Buddhism relates to actual experience imbue his teaching with a fresh perspective, and reveal a natural wisdom and humor.
Read a blog post by Dungse Jampal Norbu entitled, Making Friends with the Mind.

There are no prerequisties to attend this program. All are welcome.
Contact
If you have any questions, contact Valentin: vghiur [at] gmail [dot] com
Price
Program Price $15
Patron Price $25
Seniors, Students and Limited Income: $10
Paying the higher amount supports those with limited income.
Nobody will be turned away for lack of funds. If are not able to pay, please register online and leave a a message in the notes section so we reserve your seat.
Any payments support San Francisco Shambhala. The cost for this program is being kept low to provide an opportunity to offer a heart gift of any monetary amount to Dungse Jampal Norbu. This is done in the spirit of one's inspiration and gratitude for his teachings. Information on how to make the heart gift will be provided during the program.
Registration
Please register and pay online in advance to reserve your place. If you do not pay (and have not made other financial arrangements) you will not receive the welcome letter with the link for the Zoom URL.
About Zoom
This program will be presented on the Zoom platform. It is available for computers, smart phones, and tablets. You will need to download the free app on your device before joining the session. Once it is loaded, all you need to do is click the link and follow the prompts to join the session.
It is best to join 5 minutes in advance so that you are set up when the session begins.
And, make certain that your mic is muted when you join to avoid background noises which are multiplied with many participants.