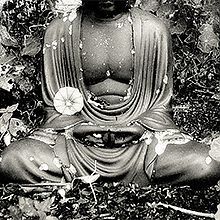 Sunday Morning Meditation
Sunday practice has moved online.
The Zoom Join URL is: https://zoom.us/j/635708320?pwd=Z0tVeVNqNFhENXZiSVc0N0J1UXl6dz09
Practice on First and Second Sundays

San Francisco Shambhala offers a Zoom-based meditation program on the first and second Sundays of each month.
This public meditation session welcomes newcomers, beginners and people who have an established sitting meditation practice. Whether your motivation is to simply relax, or to explore this profound path, sitting meditation cultivates sanity and fundamental well-being. We practice and teach mindfulness-awareness meditation as it has been passed from teacher to student for 2500 years.
Meditation instruction is given at 10 AM promptly.
Meditation also begins at 10 AM in the meditation hall. Please arrive at least 5 minutes early, as no one will be admitted late during chants. This hour is a combination of silent sitting and walking meditation practice.
Facilitated Discussion
The first 2 Sundays of the month we have discussion facilitated by a senior student. It begins at 11 AM and runs for approximately 45 minutes. If you do not wish to meditate prior to this you may arrive at 11 to join the discussion.
We look forward to seeing you!
Schedule
10 AM Meditation Instruction
10 AM Meditation
11 AM Talk and Discussion
Price
There is no cost to attend this event. A suggested donation of $5 to $10 is appreciated.
Contact
If you have questions, or you wish to volunteer, please contact Irene: iokupnik [at] yahoo [dot] com
About Zoom
These sessions are all through the Zoom platform. It is available for computers, smart phones, and tablets. You will need to download the free app on your device before joining the session. Once it is loaded, all you need to do is click the link and follow the prompts to join the session.
It is best to join 5 minutes in advance so that you are set up when the session begins.
And, make certain that your mic is muted when you join to avoid background noises which are multiplied with many participants.
Learn more about Zoom here: https://zoom.us
You can find is a list of Zoom FAQs at this link.