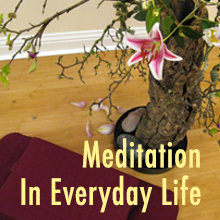 Meditation in Everyday Life: A Five-Week Course
with Kathryn Rile & Susan Arnesen
With simple instructions and support, mindfulness meditation practice can become part of your life, bringing greater stability, strength, and clarity.
This five-week Mindfulness Meditation program is designed to help new meditators develop a regular practice and bring the benefits of mindfulness meditation to their daily lives. As we begin to practice on a regular basis, we learn to relax and simply be with whatever is going on in our lives. Over time, this meditation helps us to cultivate courage, humor, and stability in the face of daily complexities of jobs, relationships, and all aspects of daily life.
Meditation in Everyday Life combines technique and understanding of meditation practice in a setting of support and community to provide you with everything you need to build a healthy, strong meditation practice.
Give yourself the gift of meditation and infuse your life and the lives of those around you with compassion, caring, and kindness.
The Way of Shambhala
This is the first course in our core curriculum, The Way of Shambhala, which provides a strong foundation in mindfulness-awareness meditation and the Shambhala Buddhist teachings of compassion and confidence in a challenging world.

The courses are weekly, interactive, communal, and create a learning environment where the teachings are intimate and relevant. We train inmeditation, and use inquiry, dialogue, and contemplative arts throughout the classes.
The Instructors
Kathryn Rile has been a student of Shambhala since 2004. She is the Director of Communications for Northern California Shambhala and works professionally in design and communications for small businesses. Kathryn is a ceramic artist and the mother of two Shambhala Sun Camp graduates.
Susan Arnesen has been studying the dharma for 25 years and practiced with the Shambhala community since 1999. She teaches yoga, is trained in therapeutic body work, and makes a living as a hairstylist.
Prerequisites
There are no prerequisites for this class. Everyone is welcome.

Readings
Readings for the class are from the following texts. It is not necessary to purchase the texts to take the class.
Turning the Mind Into an Ally by Sakyong Mipham Rinpoche
Shambhala: Sacred Path of the Warrior by Chögyam Trungpa Rinpoche
Price
Program price: $130 with preregistration and pre-payment.
Patron price: $180*
Students, seniors, limited income, and repeaters: $75 (select other)
Or write-in what you can afford, nobody turned away for lack of funds.
*Paying the patron price creates scholarships for those who cannot afford to pay the full price.

Registration
Please pre-register and pay online in advance to secure your place and help us plan for the class.

Contact
For questions, contact: info [at] sfshambhala [dot] org