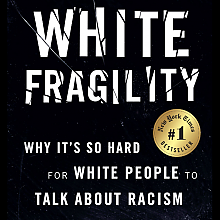 White Fragility: A Book Study Class
with Janet Ryvlin, Denise Blanc, Susan Arnesen
A book study class on Robin DiAngelo's book White Fragility. This book provides a direct and clear examination of the system of white supremacy, how it operates and how it hurts us, individually and collectively. It describes how we participate unknowingly in perpetuating it. With directness and compassion, DiAngelo allows us to understand racism as a practice not restricted to 'bad people'.
Within the view of basic goodness, we will share our vulnerability and open up to what makes it difficult to talk about racism. This book will explore the path for white people who truly endeavor to be a part of the solution.
This 8-week class will be held online on the Zoom platform. Class will be limited to 15 participants, so please pre-register well in advance to reserve your space. We ask for a commitment for all eight weeks.
About the Facilitators
Susan Arnesen has been engaged in classes and trainings addressing white privilege over the past 3 years. In this short time of working with issues related to the structures of inequality she has been drawn to engage more deeply in experiencing how these systems of bias effect the outer and inner spaces of our perceptions. She has a particular interest in working with these explorations through embodied experience.
Susan brings a background of study and practice as a therapeutic bodyworker (Orthobionomy) and meditation instructor as part of her orientation. Susan has been a part of the Shambhala community since 1999.
Janet Ryvlin recently retired from 32 years as an Oncology and hospice nurse. Throughout her career she worked with a diverse population of patients, including caring for Aids patients during the aids epidemic in the 1990's and has had a lifelong concern about the inequities of our culture in regards to marginalized groups.
In recent years and since retiring, Janet has prioritized her efforts to educate herself and facilitate education on inclusivity and diversity, including creating programs in Shambhala to address white privilege, racism, sexism, misogyny, patriarchy, and the systemic injustices to marginalized groups. She has been a student of Shambhala since 1976.
Denise Blanc has 20 years in Organization Development as a facilitator, coach and mediator. She has been a student of diversity and inclusion for the past 6 years, participating in trainings, a think tank, and doing extensive reading. In this past year she created a short program on diversity and inclusion for the healthcare environment. She also has been a student of Diane Musho Hamilton for the past 4 years. Denise has been a member of Shambhala since 2001.
Cost
Program Price: $100
Patron Price: $120
Discounted Price: $80
Or write in what you can afford. Nobody will be turned away for lack of funds.
Registration
Because of the limited size of this class, it is necessary to register and pay online in advance to reserve your spot.
If registration is full and you wish to be put on a waiting list, please contact Susan, Chosang [at] Lmi [dot] net.