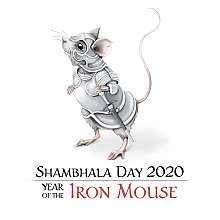 Shambhala Day 2020: Year of the Iron Mouse
Shambhala Day marks the beginning of the New Year and represents one of the most important traditions of Shambhala Buddhism.
The mouse is the first symbol in the Asian astrological cycle, and is therefore associated with newness and beginnings. On this New Year's Day, we can aspire to enter 2020 and Shambhala New Year with the spirit of a fresh start and a renewed trust in the basic goodness that connects us.
Based on the traditional Tibetan New Year's celebration of Losar, the day is calculated astrologically according to the Tibetan lunar calendar and changes every year to coincide with the annual lunar cycles.
Our annual holidays mark the rhythm of our shared experience and culture and provide the opportunity for us to join together. Shambhala Day is particularly associated with reflecting upon the year that has passed and setting our intentions for the future.
Shambhala Day Schedule
| | |
| --- | --- |
| 6 PM | Catered Dinner |
| 7 PM | Practice / Elixir of Life Sadhana |
| 8 PM | Online Presentation |
| 9 PM | Dessert and Wine to follow presentation |
| 9:30 PM | Everyone stays for lightning-fast cleanup! |
Families
Children are welcome to attend, and parents will be responsible for caring for their own children.
What to Bring
Please bring a donation for your practice book. Food will be provided.
Volunteers Are Needed!
Please contact Kevin if you can volunteer to help with any aspect of Shambhala Day.
Contact
Kevin: kwalsh311 [@] gmail [dot] com
Price
$10 suggested donation to help cover the cost of the online presentation and practice books. You can donate in advance online or make a cash donation at the center.
Shambhala Day includes a time for making a donation to both our center and worldwide community.