Oakland Shambhala Fundraiser and Anniversary Gathering (at Temescal Arts Center)
with Acharya Alan Schwartz & Kelsey Blackwell
A Time for Unraveling: Touching the Layers of a Divided Society
This event is at the Temescal Arts Center, 511 48th Street, Oakland
[America] is really where the experiment is unfolding. This is really where the races confront one another, where the classes, where the genders, where even the sexual orientations confront one another. This is the real laboratory of democracy. -Leonard Cohen
We live in a time of much division. From overwhelming societal injustice to our own personal struggles to secure happiness, we position ourselves in "tribes" determined by political party, faith, class, race gender, and so on to create a sense of safety and a feeling of "belonging." But by "othering" those who differ from us, we fortify a world of fear and aggression.The path forward through this challenging morass requires not only the recognition of that which divides, but also witnessing how that very recognition -- "othering" -- lands on our own hearts. Though we may experience an abrupt collapse of these boundaries in a moment of insight, is it possible to cultivate lasting change?
Join Acharya Alan Schwartz and Oakland Coordinator Kelsey Blackwell for an open-hearted community discussion.
Hosted by Oakland Shambhala.
Help us continue to offer meditation and community discussions in Oakland!
We're raising $2,000 to cover our rent for the next year.
If you're inspired, please donate here and put "For Oakland" where it says "Add special instructions to the seller." Donations will also be accepted in person on April 22nd.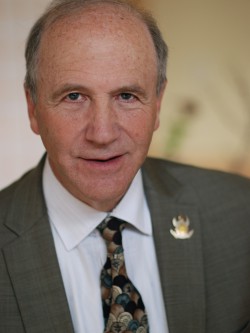 Acharya Alan Schwartz
became a student of Shambhala in 1970, when the Druk Sakyong first arrived and began to teach in North America. For four years he resided at Karme Choling and Maitri, both newly-founded meditation communities, until taking up residence in Boulder, where he founded numerous businesses.
In the 1980's, Alan served for five years as the principal executive officer of 3-month seminary programs. It was during this period that he received his "basic training", working closely with the Druk Sakyong on these seminal teaching events. During that time he was also appointed to serve as teacher-in-residence to Shambhala's San Francisco community, which he did for nine years. In 2010 he was appointed a Shastri. In 1989 Alan married Kerry Golemon Schwartz. They have raised two children, and continue to teach actively in the Bay Area under the guidance of the Sakyong.
Alan is particularly inspired by the Sakyong's leadership and vision for social transformation and applying profound Shambhala Buddhist teachings in areas of worldly impact, such as working with the energy of business and wealth, and transforming materialism to activity which benefits society.
Kelsey Blackwell
is a co-founder and former lead organizer of Oakland Shambhala, a satellite meditation gathering offering meditation instruction, discussion and experiential activities incorporating mindfulness and "bodyfulness" to experience our fundamental human worthiness. As a dancer, she has studied ballet, modern and African and currently practices and teaches InterPlay, body-wise play for all humans incorporating movement, storytelling and song to unlock the wisdom held within. On her blog,
TheMarvelousCrumb.com
, Kelsey writes about the the challenges of feeling "othered" due to race, class or body size and offers personal stories and practices for claiming wholeness and a sense of belonging.